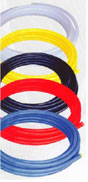 HDPE Sub Ducts of different colors can be placed inside the larger HDPE Solid Ducts to run different types of cables. Different colors are used to identify of cables.
HDPE Sub Ducts are available as 100m, 200m, 300m rolles.
Sizes given in the table are standard sizes. Ducts in other lengths, wall thicknesses and diameters can be supplied on request.
| | | |
| --- | --- | --- |
| Outer Diameter (mm) | Wall Thickness (mm) | Length (m) |
| 20 | 1.4 | 100;200;300 |
| 25 | 1.5 | |
| 32 | 1.8 | |
| 40 | 1.8 | |