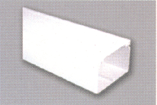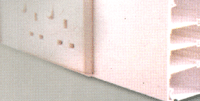 I Duct Multi Compartment Trunkings are Cable Trunkings divided in to different compartments by Dividing to run different types of cable like power , data, & telecom cables , etc. The barrier Dividing Fillet between different compartments avoid interferences between different types of cables. Used in modern office to run data, power and telecom cables.

I Duct Multi Compartment Trunking design is robust and build to last, as it is manufactured from super high impact UPVC compund to withstand the most harsh working environments. Its design has been improved with security in mind and at the same time giving the convienience of segregation of cables by using the clip on dividers for all sizes.

Dividing Fillet fitted to Multi Compartment Trunkings givessegregation of data, power and telecom cables.


| | |
| --- | --- |
| Item Code | Sizes (mm) |
| | |
| | |
| | |
| MCT10040 | |
| MCT10050 | |
| MCT100100 | |
| MCT100150 | 100x150 |
| | |
| --- | --- |
| Item Code | Sizes (mm) |
| | 40mm for 40mm high trunkings |
| | 50mm for 50mm high trunkings |
| | 75mm for 75mm high trunkings |
| | 100mm for 100mm high trunkings |